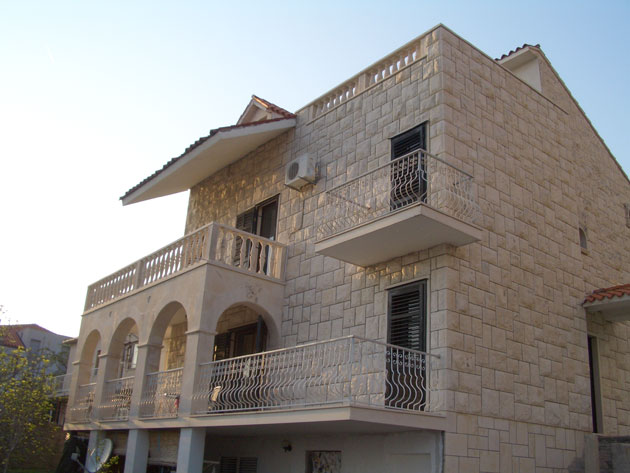 Finding a New Place to Call Home
Posted on May 1, 2009 at 1:17pm Madrid / 7:17am Cincinnati by Jay Larbes

As most of you know, Kelly and I came to Split, Croatia without first making any arrangements for a place to live. Kelly's company arranged for us to stay in a hotel/villa* for a few days while we searched out and found our permanent apartment. We tried to search for an apartment online in the months before arriving, but did not have much success because the majority of apartments we would find online were for vacation/holiday/short-term rentals. So, once we arrived and got some much needed rest after our 20+ hour journey, we began to search for our apartment.
*For our first few days in Split, we stayed at the Villa Kameni Cvit, which was a very cool place to start our new life here. The Villa is in the center of town, has three separate apartments – a loft on each floor of the building – and a shared kitchen. We stayed in the loft on the top floor, which had extremely slanted roofs and we, especially I, hit our heads a lot. But it placed us close to everything in town, and was furnished very nice and contemporary. More on the Kameni Cvit later…
Kelly started our apartment search with her new fellow employee / Split insider, Maja. Kelly and Maja purchased a classified advertisement magazine and Maja translated apartments and picked out ones that fit our interests – more than 50 square meters, either near the center of town or in one of two areas close to beaches – Bacvice and Meje. Once we had a few places picked out, Kelly and I started calling* the phone numbers listed next to said places.
*In order to call, we needed phones, because the Kameni Cvit did not have a telephone in the room. And, we especially needed phones in general while at the Villa because without phones we were just yelling up from the front gate to our third story loft to let each other in! Also, we had tried sending some emails to make arrangements, but we never received responses back from our emails – that was a bit of a surprise. So, we went to the local T-Com (Croatia's house-and-mobile-telephone company) outlet and purchased pre-paid mobile phones. Pretty inexpensive, but the biggest difference with mobile pre-paid mobile phone plans here is that you are only charged by the minute for outgoing calls. If someone calls you, then that call is free to you. Anyway, more on T-Com, phones, etc. in the future. The point for now is that we purchased mobile phones, so we could make calls!
I lucked out with the first phone call I made – it was to a rental agency here in Split. (Rental agencies are very numerous here, and compete to make sales on the same assortment of places up for rent.) After talking to two different people on the phone – I guess the first woman handed me off to a second who spoke better English – for only about two minutes, I made arrangements to meet the agency reps on the Riva in 30 minutes!
So, Kelly and I quickly got ourselves prepared to go out and trekked down to the Riva (10 minute walk through the Diocletian Palace) to meet Danijele and her colleague – that is how all of the reps refer to their partners/associates – from Imperium Nekratnine. We waited by the Sv. Frane church for only 1 or 2 minutes before a small blue car drove by us, stopped, and beckoned for us to get in. And off we went! Danijele and her colleague, who looked to be about our age (most of the rental agents we worked with seemed to be), told us that we would first go back to their office and look at pictures of apartments on their computer.
After driving through town for a few minutes, we parked on the side of the road, got out and followed Danijele down a dodgy alleyway full of graffiti to their office, which looked to be just one room, with two desks, two computers and a guest couch. The office was very nice and contemporary looking, we were just a bit surprised at its location! At the office, we looked through some photos, then Danijele let us know the terms of their services – once we settle on an apartment, we would pay them one-month's rent as a finder's fee. We were surprised by this – and it really irritated Kelly (though she kept it to herself) – since we're used to the seller paying these fees, not the buyer, but we did some research and that is normal here. Sometimes it is negotiable and you can get the agency to only accept one-half month's rent, but it is a standard buyer fee. Anyway, next Danijele and colleague made a few phone calls while we sat on the couch confused/wondering what was going on*. Once they were done with the phone calls, they told us it was time to go.
*We later realized that they were making arrangements for us to see the apartments we wanted to go see, they did not explain this to us directly. This 'lack of communication' is becoming a bit of a trend. In several different situations, we have asked someone who speaks English a question, and they act as our interpreter and ask the question to someone else. They will carry on a two-minute conversation, and then our interpreter will turn back to us and give us an answer in three or four words! I know that we're missing parts of the answer that we wanted, but oh well, we're getting used to it quickly!
So, we piled back into their car and saw several different apartments around the town. Here are some of the highlights of ones we found interesting or liked, but didn't make our final cut.
One was on the fifth floor of a building in the center of town, without an elevator – and the fifth floor is really six stories up because here the first floor is the first floor off the ground, what we think of as the second floor. Because it was so high up, this place had fantastic views of the sea and of Marjan hill. The place itself also looked awesome – everything looked very modern and contemporary looking. However, because it was the top floor of the building, it had incredibly slanted roofs that considerably reduced the living space. The beds in each bedroom would be basically mattresses on the floor – no box springs – positioned underneath these roofs, and I was not able to sit up at the head of the bed! We ultimately opted against this one, mainly because of the roof and the main bedroom only had a small double bed.
Another was in Bacvice, and was the first floor of a two-story house. This was the only place during our entire apartment search that had a dryer – it was in a laundry room shared with the owners who lived on the upper floor. The owners also owned a dog, and the place had a nice little yard, with a big brick oven grill! However, it was very pricy, and we did not have any view from our apartment, and Kelly was a good 30 minute walk to work, so we had to pass on this one as well.
Two others that we saw were very interesting in that they were not yet furnished. The owners were still finishing remodeling the rooms, so they looked fantastic because everything was brand new. One of these was owned by a young woman from Portland, Oregon! She was remodeling the place for herself, but then got a new job working for the UN in Rome, so she was putting it up for rent. These two places intrigued us a bit, but we would not have had furniture for a couple of weeks, and we were worried about getting stuck in a bad situation, so we decided to also pass on these.
Overall, we saw eight apartments on this first day of our search. We didn't find the apartment we wanted, but it was very helpful for us to see all of these to help us define what exactly it was that we did want. After Danijele dropped us back off at the Riva, Kelly and I made some more phone calls to make arrangements with more rental agencies that night and the next day.
That night, Kelly had arranged for us to meet a rental agent named Stipe back in Bacvice around 8pm. So, Kelly and I walked out to Bacvice (20 or so minute walk) only to receive a call from Stipe asking us to push back our arrival time by 30 minutes because his tennis game was running late! Kelly and I eventually do meet Stipe around 8:30pm, but we struggle mightily to communicate, because his English is not so good. After some time, we figure out that Stipe had no apartments to show us tonight, but he just wanted to know our likes and dislikes so he could make arrangements the following afternoon. However, we think he was trying to tell that something about the places were not legit*, if that was a problem to us. Anyway, after talking with him for a few minutes, we went our separate ways, and Kelly and I decided that we would not be going anywhere with Stipe! That was enough for day one.
*On our first day in Split, when Kelly's boss Tony gave us a driving tour of the city, he pointed at some buildings and said that they were rehabbed and people live in them illegally, and that nobody owns the buildings because of arguments about ownership since the war, when many people left the city and did not return. We assume that Stipe wanted to show us apartments in places like this.
The next morning, we met a new rental company – Mercado – at the Riva again. We had hope that this experience would be good because Kelly got the impression from her phone conversations with our rental agent, Vesna, that she spoke excellent English and was very friendly. Kelly's impression was right! Vesna was indeed very friendly and spoke perfect English, and it gets better – she plays volleyball! She actually had just returned to Split from the USA where she had lived for the past several years going to college and playing volleyball – at a community college in Kansas and then at Central Florida University. We all got along very well right away.
At first, Vesna showed us a couple of apartments that were just okay or that we didn't like very much, and she also took us to two of the apartments that we had already seen the day before! What was interesting, was that the prices Vesna had were different than the prices from the day before. We kind of had an idea that prices were negotiable, but didn't realize that the agencies would be quoting us different prices for the same places as well. We were amused by that.
But, then we went to Meje, where we found our apartment. Meje, we have been told, is the "Beverly Hills" of Split, because it's one of the neighborhoods where some rich folks live. But, it's not really like that. Yes, there are a couple of VERY nice places owned by mega rich people (Goran Ivaniševic, a tennis star who won Wimbledon, lives on our street; Dino Radja, a four-year NBA player for the Celtics in the 90s, lives a street down from us), but the vast majority of places are not like that. They are just normal apartments.
While touring the apartment, which was the upper floor of a two story home, I remember asking Kelly what she thought. I liked it, but wasn't positive of her opinion, because the place wasn't the most up-to-date or contemporary looking place that we had seen, but it had an absolutely amazing view from three of its four (yes, we have four!!) terraces. Kelly whispered back to me (we were trying not to give ourselves up to the agency when it came time to negotiate price), "I love it!" I knew then that we had found our place! We have much to tell about our apartment at Antuna Mihanoviceva 44A, in the Meje district of Split, Croatia, but it gets its own story! That's all for tonight.