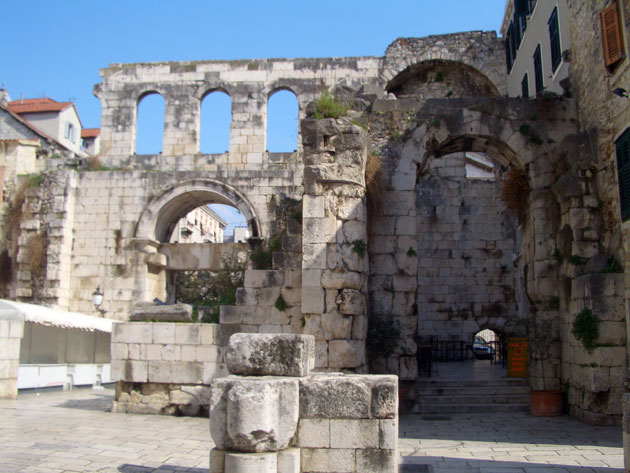 Stray Cats and Narrow Alleys in the Diocletian Palace
Posted on April 19, 2009 at 2:04am Madrid / 8:04pm Cincinnati by Kelly Larbes

The first thing I saw were two cats pawing and playing together as they skipped across several motos. The spry stray cats, old stone buildings, red clay roofs, and shrunken alleyways in the Diocletian Palace create an enchanting atmosphere and immediately engaged all of my senses. Tony took Jay and I on a walking tour our first evening in town. We wound our way through the narrow passages discovering new sites at every turn.
We passed the ghostly fish market, which we knew would be alive and bustling the next daybreak; the smell still lingered from the morning. Tony bought us chocolates at the small Nadalina chocolate shop; they are one of my new clients. We entered a large stone dome with an oculus where six men were singing beautiful a cappella inside; I dearly wished I had my video camera to capture the harmony. We have walked through the Palace many times in the last two weeks and we keep discovering new places and seem unable to find places we saw on the first day again.
The Diocletian Palace, a UNESCO World Heritage Site, finished its 10 years of construction in 305 AD and is considered the world's most complete remains of a Roman Palace. It was built in preparation for the emperor Diocletian's retirement. The architecture was part luxury villa and part military camp, with gates and watchtowers. There are towers protruding from western, northern, and eastern sides and the sea is to the south, where presently you will find Split's Riva, the town's main waterfront promenade and harbor. The Palace was made of high quality marble from the nearby island of Brac, of the same marble which the White House in Washington is built. It was decorated with imported Egyptian granite columns and sphinxes. With an exception for the south sea side, sometimes it is difficult to tell where the palace ends and the rest of Split's begins; the center is all a maze of little streets sprinkled with small piazzas.
What inspires me most about the Palace is that it is so full of life. It is not a fenced off, pay for admission, tourist attraction. People live and work throughout the palace. There are tiny restaurants and cafes, boutiques and designer stores, and apartments with clothes hanging from the windows to dry. It has grown with the city through the ages.
One of our early favorites in the Palace was a small pizzeria with just five tables and a small bar tucked in an alley where we ate dinner on our first night. The pizza and bread were hot and delicious, and most importantly, our server was friendly and animated. She was a university photography student who had done quite a bit of traveling already and hoped to move to London with a friend soon after graduation. She always had a smile on her face and seemed quite pleased with the few Croatian phrases we had memorized before arriving. She tried to teach us how to say her favorite phrase to learn in a new country in Croatian: "Where is the restroom?" I already forget how to say it though. We have only been back once because we have so many new places to discover first, but I am sure it will remain one of my favorites.
I'm so happy that we have arrived in April to explore the Palace before the hubbub of the tourist season in the summer. Last Sunday morning on Palm Sunday we were traversing the Palace and found ourselves alone in the main piazza. It was a bit of a surreal feeling to be there alone with Jay, when it is so often crowded with tourists. For some reason, it made me feel a little bit more like we belong here.